The Museum is now closed for winter and will reopen for the 2019 season in April.
Welcome to Saxmundham Museum
---
About the Museum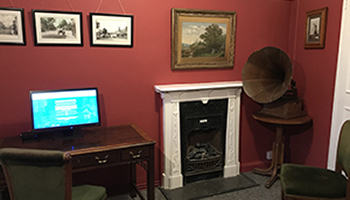 We are in the heart of rural Suffolk, recording and preserving the history of Saxmundham, Kelsale-cum-Carlton and Benhall.
The Museum was opened in 2004 by special guest Peter Purves.
This year we have launched a new Reference and Local History Room.
Strada Cars
Launched at the 1974 Car Show, the company folded in 1975 but what's the story behind Saxmundham's very own sports car manufacturer?
Come and find out, we have a new display for 2018 in the Green Room.
Jenny Toombs
Jennifer (Jenny) Toombs was an internationally acclaimed artist, famous for her hand-drawn stamps and first-day covers which were issued in over 50 countries.
She lived in Benhall for many years but suddenly and peacefully passed away at home on April 2, 2018.
We have created a tribute to this muched loved and missed lady.
---
Thank you if you came to see us in 2018
The Museum is now closed for the Winter.
Thank you to everyone who came to visit us during the 2018 season.
The Museum will reopen for the 2019 season in April.
Would you like to become a steward at the Museum?
The Museum's stewards play a very important role, if you feel you could spare some time and would like to know more please follow this link.
GDPR
General Data Protection Regulation

The laws governing data protection have changed. If you have received messages from us but feel you shouldn't be on our list please let us know.

Alternatively, if you'd like to sign up to receive our emails concerning news and events then please SIGN UP!

We do not share your details with anyone else, if you'd like to review our data protection policy please find it here.

Our website does not capture and collect information about our visitors but we do use Google Analytics.
AGM
Our AGM will take place at the URC hall, Chapel Road at 7pm on Friday 9th November.

Our speaker this year will be recalling some anecdotes about times gone by.
Winter Friends Evening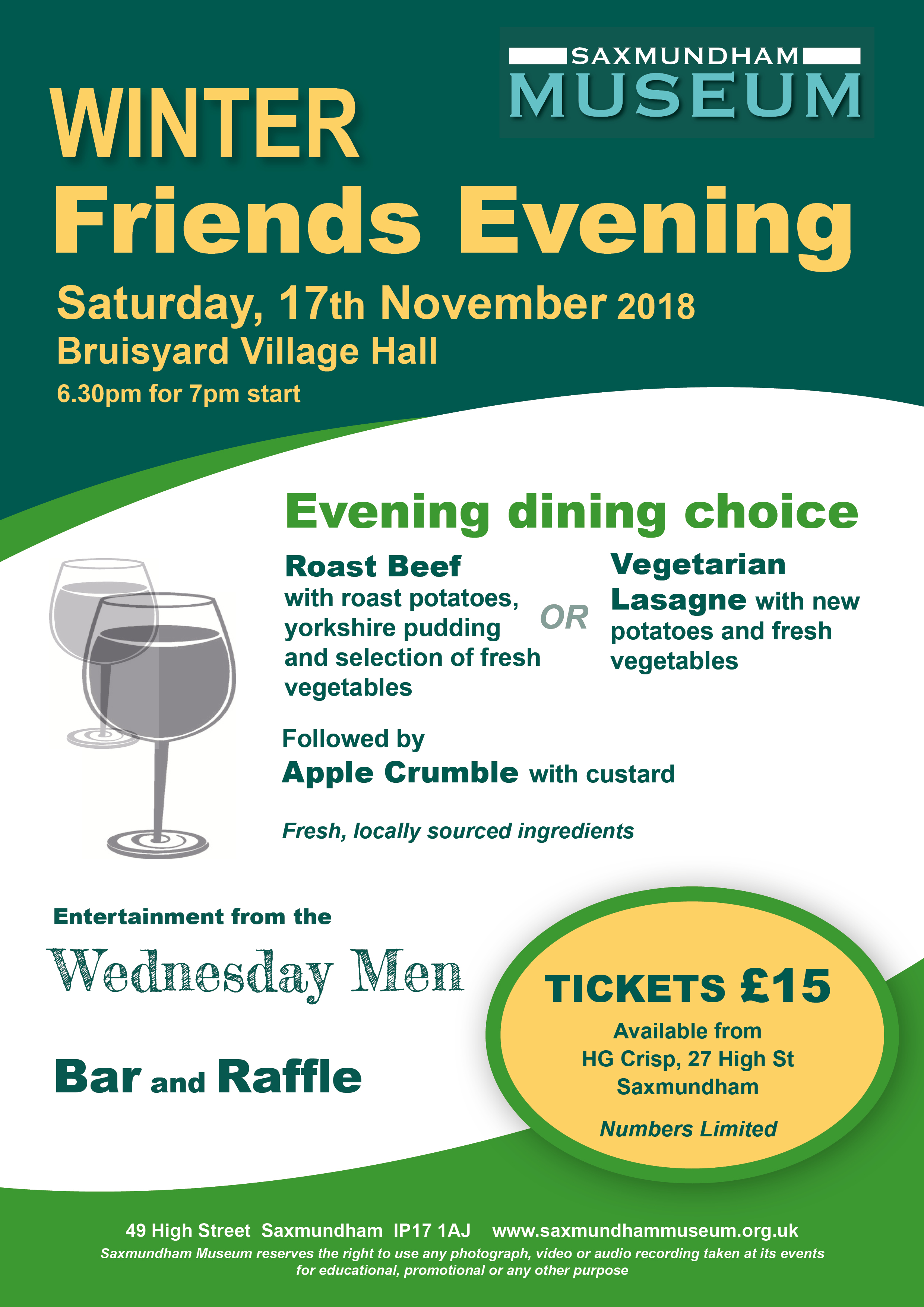 This year's Friends Evening will be held at Bruisyard Village Hall on Saturday November 17th, doors open 6:30pm.
Entertainment will be provided by The Wednesday Men (plus a lady singer).

A catered two course meal will be served and drinks will be available from the bar.

Tickets are available from Crisps, £15.
Time to get Quizzical again!
We're holding a Quiz Night again, on February 2nd 2019 in the Market Hall.

There will be a round of questions concerning the history of Saxmundham!

Details to follow.
The History of the Museum
If you have any reminiscences of the early days of the Museum, Belinda Moore would love to know about them for a Museum history that she is writing with Richard Wills Crisp. Details are in this pdf. Please get in touch with Belinda if you can help – email