Museum re-opening May 19th!
The Museum - Find Us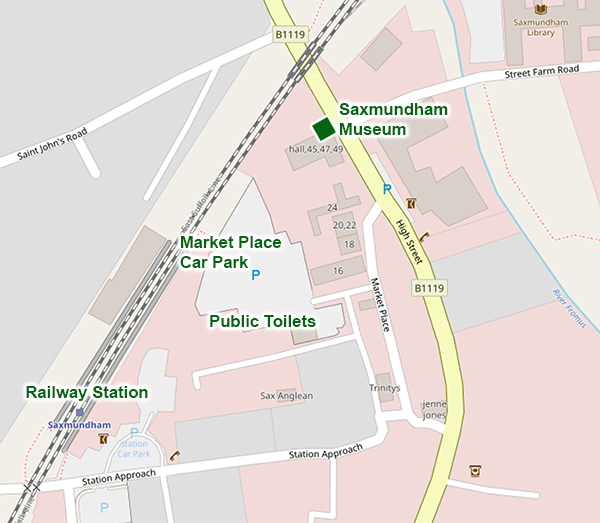 You'll find Saxmundham Museum at 49 High Street, Saxmundham, IP17 1AJ.

We're at the north end of the High Street, towards North Entrance, just before the railway bridge.

Short stay car parking is available opposite the Museum, the closest car park with Blue-Badge spaces, is behind Saxmundham Market Place.

Public Toilets are located by the car park.

If you come on the train to Saxmundham, the Museum's a short walk down Station Approach, turn left through the Market Place and head on to North Entrance.

There is no official signage to the museum in the town but follow the signs for the old bus station.
---
Schools and Clubs
If you belong to a club, society or school that would like to visit the Museum outside our normal opening hours, please get in touch.
We'll be happy to arrange a tour and to tailor it to any special interest you may have. We will make school visits an active learning experience, relevant to the age of the students and their curricular needs. A visit by a member of the museum team in advance to engage with the students in school can be arranged.
Any group, school or society who is interested please contact Peter Minta.
We ask for a small fee per group.
---
Accessibility
We are sorry to say that at the moment access into Museum would be difficult for some people. Home to the Museum is a small-fronted Victorian building, spread over several different levels. The Front door is only 27 inches wide and involves a high step. This makes it difficult for wheelchair access and the pavement outside is not wide enough for the use of ramps. If you would like to visit and feel you may need assistance please contact us.

We shall continue to review our options and possible funding opportunities with the aim to improve access into our Museum in the future.
---
Our postal address is 49 High Street
Saxmundham,
Suffolk,
IP17 1AJ.
Telephone (01728) 663583 and you will get through to one of the trustees.
---
© Saxmundham Museum 2021. Registered UK charity no. 1089661. All rights reserved.
Website by Sax Museum volunteers